1711 28th December- John Williams sublets to a Thomas Bluett of Gwinear, husbandman-
the higher field of Church Close and the long meadow, part of Rose an valley, parcel of
the Barton of Roseworthy in Gwinear, with common pasture for his cattle with a half day
cutting turves in Trevenning moor and a day cutting furze on Halgoose yearly.
(Hendra, volume 1 no 894)
1719 Copper was discovered around this time, Relistian mine was reopened and worked for
about ten years.
Relistian closes until 1805
1727 Corn riots in Cornwall
1727 The date inscribed on the font at Gwinear.
1730 John Harvey is born.
1740 Around this time Wall Farm was built on land owned by the St Aubyn Family.
1741 Parish population about 1700
1743 John Wesley's first visit to Cornwall. In July he visits Gwinear Parish. It is not known where
he preached.
1748 Boundary Map showing Carnhell Green where John Harvey worked as blacksmith.
At Penponds, near. Barripper, not far east of Carnhell is near where Richard Trevithick's cottage stiil
stands. The author of this text is married to a Cornishman by the name of Saundry.
On the map near Barripper is Vellen Saundry, (Saundry's mill)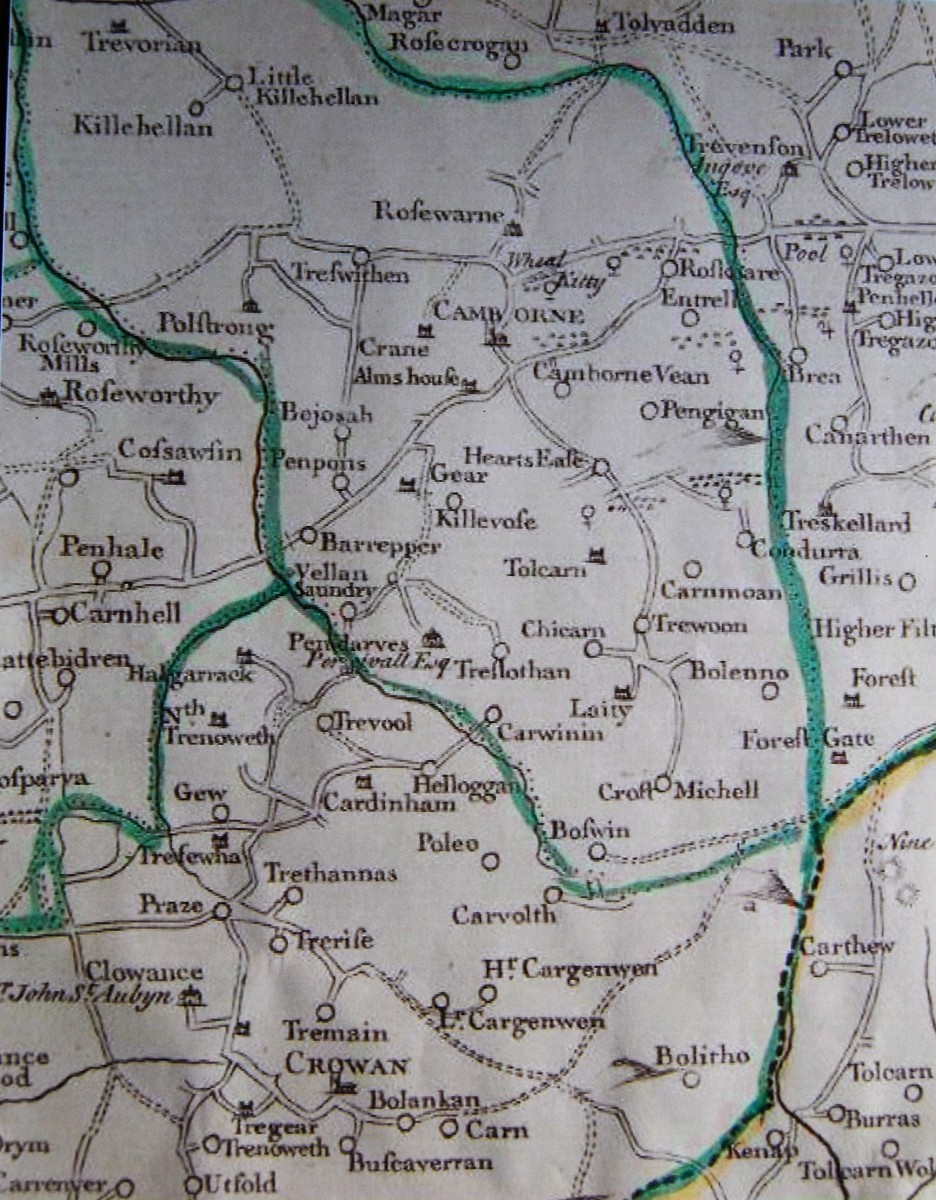 1756 John Harvey marries Anne Pearce, daughter of
William Pearce of Gwinear
1758 One of the biggest steam engines in the world,
with a 70inch cylinder, was erected at Herland mine.
Boundary map which includes Gwinear
1767 The year in which the first four bells were installed in the tower.
(This page takes you through to the present day).
The Peal of Six Bells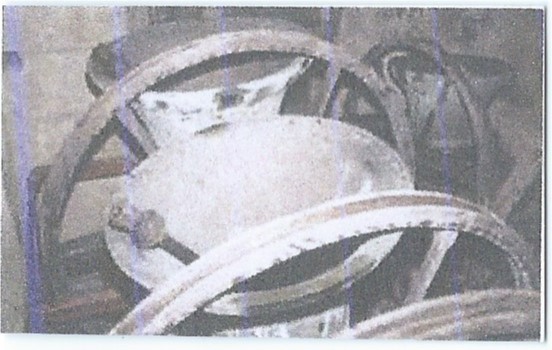 Treble: weight 4cwts 1qr. 22lbs. Key of F
Inscription: "I call ye to follow me"
Second: weight 4cwts.qr.12lbs. Key of D sharp
Inscription: God preserve the Church'
Third: weight 5cwts. 0qrs. 2lbs. Key of C sharp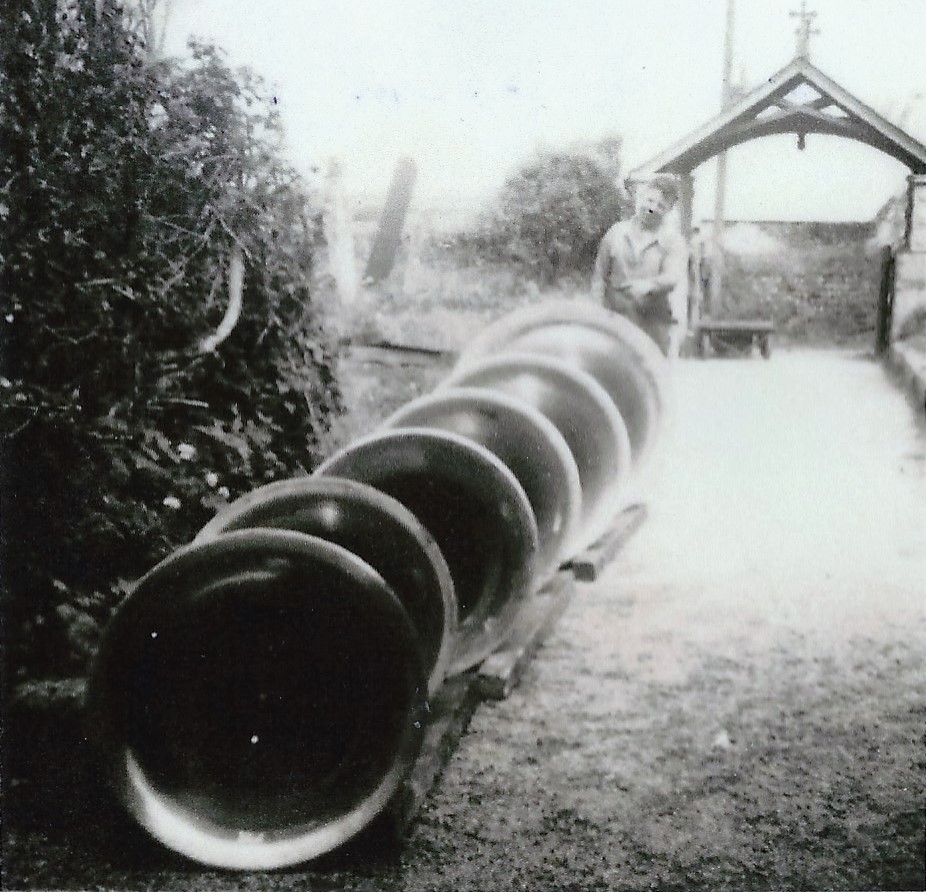 Inscription: 'God save the church
Fourth: weight 5cwts. 0qrs. 26lbs. Key of B sharp
Inscription: 'Penningtons cast us all' 1767
Fifth: Weight 6wts. 2qrs. 2lbs. Key of A sharp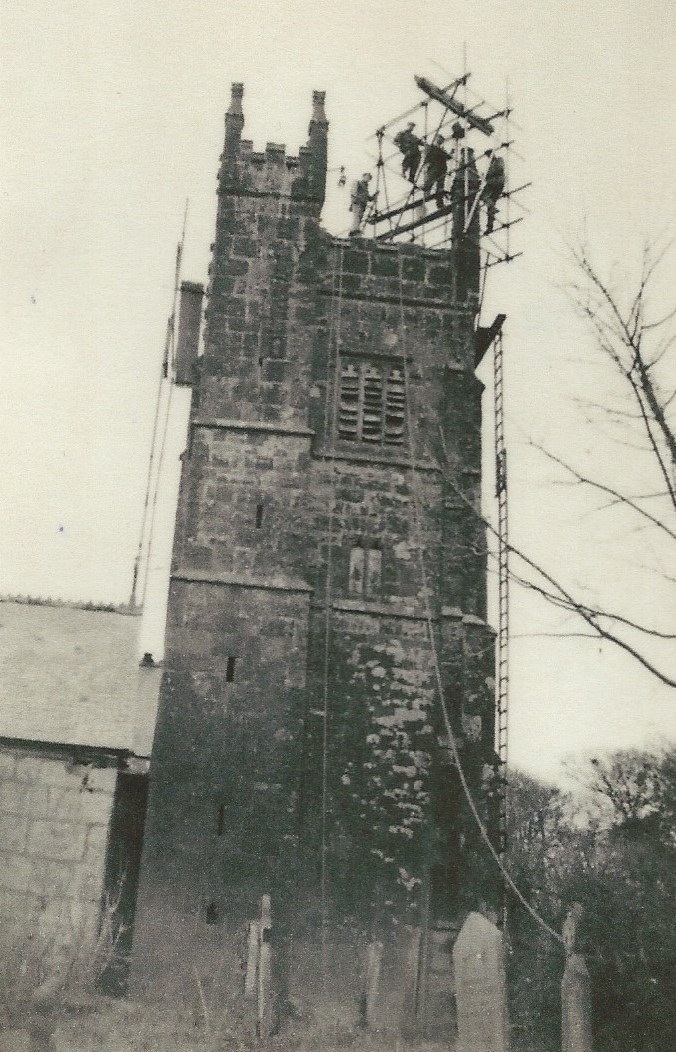 Inscription:
'Recast by John Warner and Sons Ltd
London, 1903
Sixth: weight 12wts. 2qrs.2lbs. Key of G sharp
['I am a voice ready to cry out'.] Recast in 1956 by Taylor's Foundry
The two black and white photogaphs tell us so much! Experts from Taylor's
foundry are returning the bells in 1956,
Today, the bells are rung frequently and we welcome new bellringers and visiting teams too!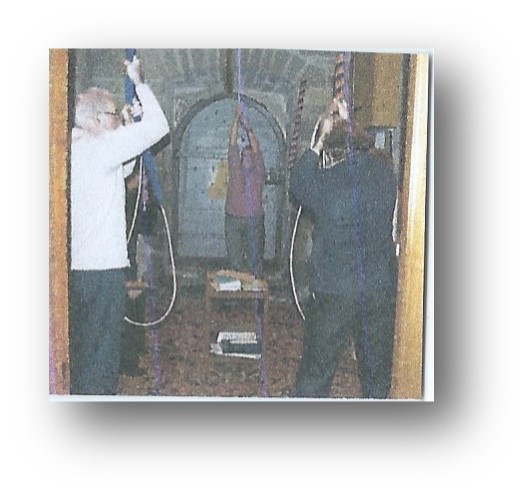 ( Coach loads of bellringers arrive in summer on bell ringing tours.)
1775 Around this time, John Harvey, blacksmith at Carnhell Green
fixed an improved boiler in the house of Richard Trevithick.
(senior)
He also discovered how to cast iron pipes.
1779 John Harvey established a small foundry and engineering
works in Hayle, specialising in the construction of beam
engines which pumped water out of the deep copper mines.